So my wife told me I couldn't go up to Dove Ranch this weekend, because I've been up there every week for the last month. But I got all this new fencing material, and it's like a new toy. You can't just go two or three weeks without playing with a new toy.
So, yeah, she relented and I went up while she was working. The kids were all out of the house for the day, so it was a solo trip. Sometimes, it is nice to do a solo run to Dove Ranch.
For such a remote location, Dove Ranch and Dove Creek Road keep changing while I'm not looking. When I went to water the trees this weekend, all the mulch I had put around three or four trees had been swept away. That means water at least knee deep and likely closer to thigh deep came through the wash.
I have no idea when a flash flood will come through the wash or what kind of rain triggers it. I would have thought a flash flood would have come down on the day Bridget and I did the hike up the Dove Creek Hills, but I checked and none came. I can't seem to catch flash floods with my trail cam. They never trigger the motion sensor, or their is fog or raindrops on the lens when flash floods come. I'm dying to get some good pictures of flash floods in the wash, but it's really hard to capture them on camera.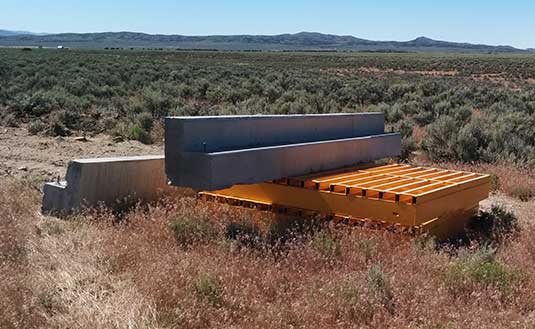 The other change is someone has dropped off the pieces of a cattle guard at the entrance to Dove Creek Road. I never know who is making the changes. It could be the county, or the BLM, or maybe even the state. I'm guessing the barbed wire gate is going away and we're getting an upgrade to a cattle guard soon. I look forward to not dealing with the fence again. Also, it will be nice for the hunters in the fall. Maybe this year there won't be a fence for one of them to crash into.
I'm really excited to see the cattle guard going in.
Someone dropped a load of dirt in one of the notoriously muddy locations on the road, just recently. I don't even dare take that chunk of road during the wet seasons. I think you could get a full-size pickup stuck in there when it is really muddy. I'm glad to see that improvement to the road.
I also hear rumors (from the the guys at the county) that we'll be getting a new sign for Dove Creek Road. I thought it would be in by now, but maybe they're going to do it after the cattle guard.The old sign was ripped out. I'm guessing the BLM ripped it out, but I don't know for sure. It's really hard for my wife to find the road without the sign. I can find the road without the sign, even in the dark, but I understand not being able to find the road without a little extra help if you don't know the area that well.
So anyway, back to the purpose of my trip.
I really had to water the trees bad. I just planted those trees in the wash, and the other trees have only been there a year (with one exception) since I planted them.
I sadly report that I may lose a few of the trees from last year. Those Colorado pinyon seedling have a horrible time getting established. It seems that one the Colorado pinyons get to about a foot tall, they have few problems tolerating the weather, but when they're only a couple of inches tall they're still too delicate.
One the bright side, the one Colorado pinyon I have from 2014 is still going strong. It lost most of its original branches, but now has lots of new growth. If it makes it to the fall of 2017, I'm going to cut it off from supplemental water and see if it can thrive on its own. It may be my first successful tree up at Dove Ranch.
I took up one of my 4-inch pipes to set in concrete. The ground is getting real hard with all this heat and lack of rain. However, I managed to set my first terminal post 26-inches deep with 160 pounds of concrete. Once I have the support post hooked up to it, and set in concrete, it should be plenty strong enough to keep cattle out. Nothing will keep a determined cow or bull out, but it will be a good enough deterrent for most of them.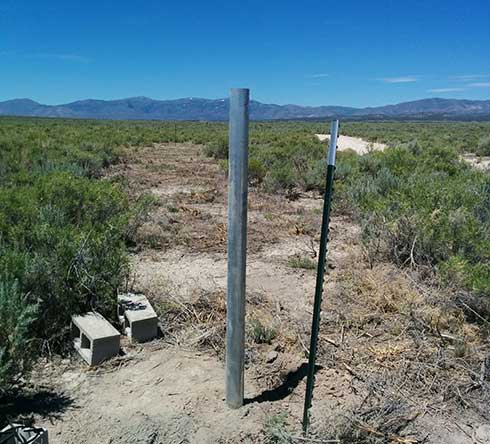 I'd love to say I set more than one post, but I only have enough carrying capacity in my Forester to bring up one post, two bags of concrete and ten gallons of water. I can bring a little more, but not much. However, if I'm consistent about setting one pipe post per trip, I'll have the first 700 feet of fence done by this winter.
I realized on one of my recent camping trips to the ranch that the reflectors I put up to mark the driveway get farther and farther apart over the 200 feet of driveway. I brought my measuring wheel with me on this trip so that I could correct that. Now, they stay 17 feet apart. I feel much better about that. Eventually I plan to put a nice wooden fence on the sides of the driveway, and it just wouldn't do to have that crooked, now would it.
We've entered fly season at the ranch, so I don't think I'll go for any more camping trips until there has been a nice hard frost. Flies aren't as bad as the mosquitos in Woods Cross, but I still hate them. Flies and mosquitos are two of the reasons that I find summer to be my least favorite season.